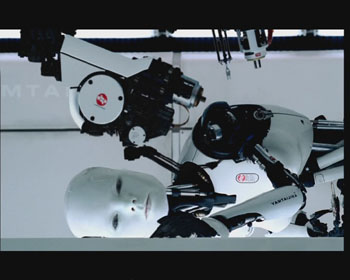 Well, fresh project, fresh research. I googled for Eggshell Robotics on Google, but did only found few sites with related content on. The only site related to the topic was the landing page for Björks Videoclip "All is full of love", where two robots meet each other. The video can be considered a real classic: not only for music- and videoclip aestetics, but as well as giving birth to robots.


Following the liner notes for the Video-Website we get some nice additional information on the making of the videoclip:
The robots were built by Paul Catling, who also sculpted the masks for Windowlicker. Catling, who taught Cunningham about model-making, sculpted the full-sized robots in clay in two hours.Cunningham worked with Julian Caldow on the set design, and it was put together by Chris Oddy. But the director says, "To be perfectly honest I didn't have time to make the set look exactly as I wanted it, so I made it post heavy." For example, on the shoot there were two main robot arms (operated simply by rods), but in post production, a third and fourth robot arm were created in CGI at Glassworks.
The director Chris Cunningham says about the clip:
It's a combination of several fetishes: industrial robotics, female anatomy, and flourescent light in that order. It was perfect, I got to play around with the two things I was into as a teenager: robots and porn.
Feel free to subscribe to our Eggshell Robotics RSS feeds to stay in touch.
Tags: music, video, couple, giving-birth, humanoid
Jan_12:2008 .020200 Comments(0)