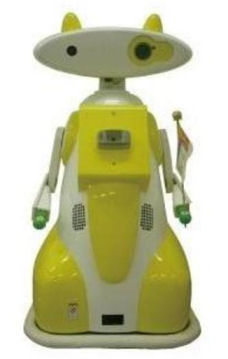 I am not sure, what to think about this robot. It is a robot, designed to interpret and give help to autistic children. It analyzes parameters like physical activity, heart-rate and temperature and should be able to play with the children and make them learn social skills (the children, not the robots!). Developed by a professor of mechanical engineering at Vanderbilt University in Tennessee this robots gives the promise, that it is eventually better in understanding people with the autistic disorder, than people.
Nilanjan Sarkar researched on measuring physical parameters and humans and is interested enhancing the robot-human interaction. A relative of Sarkar was diagnosed an autistic disorder, so the idea for this robot was born. Rumours say, that everyone should like "Metal Mickey".
He found the physiological data gathered could be used to develop an affective model for each individual that was able to predict emotional states of liking, anxiety and engagement with an accuracy of better than 80 per cent. Even better, he showed that this information can be used in real time to alter the game configuration in ways that significantly increase the children's degree of engagement.
Since I totally have nothing against playing and interacting with robots, I somehow think that the concept of this robot is somehow disturbing. I can't tell exactly what it is. Maybe it's the promise, that this robot will be better in understanding humans with disorders, that other humans could do. On the other side this one could be a helping hand, if the stress levels once again got too high, and especially children like to play. Even with robots.
[via]
Tags: care-o-bot, indoor, homebot, surveillence, play
Feb_19:2009 .020200 Comments(1)