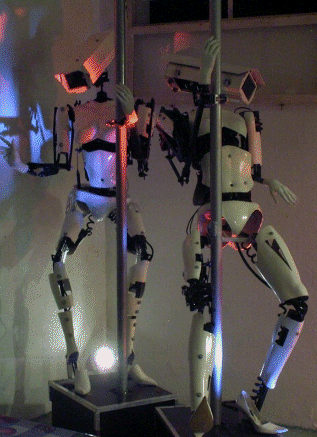 Picture: Giles Walker
Oh my god. The underground seems to be the most important platform for the growth of a robotic culture. And why not? Giles Walker build this robots in the year 2007. Look how they move, look how they dance. The works from Giles Walker ofter circle around music and bodies. The robots are fairy nature, made by something like a metabolism, if you look how the robots were build. Just to remember, that also humans constantly exchange matters between the body and outside.
These pieces are two fully animated robot pole dancers. They are made from raw materials found in various scrap yards (eg. the motors that animate the pieces are 12V car wiper motors or window motors) and controlled, via a PC, using a DMX lighting programme.
That surveillance cameras as heads is a brilliant idea, just screaming "Hey, I am looking at you!".
[via]
Tags: music, culture, nightclub, erotic, surveillance
Jan_09:2009 .020200 Comments(3)