On the 4th January 2008 Eggshell-Robotics went online foremost as the first robotic-blog from Germany with a blogpost about non-newtonian fluid on a audio-speaker. Looks a little like the inside of an egg, doesn't it? Exactly twelve months later, we are still passionate about robotics, inventions, culture, research, music and play.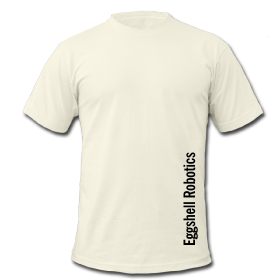 Celebrate our first birthday with us! We give away an Eggshell-Robotics t-shirt as a price if you send us an e-mail with the following things included:
What do you think will be the hottest robot-topic for 2009?
What is your personal most interest in robots?
Please include an drawing or artwork you made by yourself about anything you love about robotics.
You do not need to be Picasso to submit an artwork. We like also to see something like this, this, this or this. We also accept models, actionfgures and cakes. If you label them "Eggshell Robotics" somewhere, this would be very neat. But most important: be creative!
We pick the most inspired drawings / artworks and will publish them on our site eggshell-robotics.com. The winner will be choosen by a jury (eggshell-robotics and baltobor) and he or she will receive a free eggshell-robotics shirt. The shirt by the way is not white, like it shows on the picture, but got a decent color in "eggshell-white". They look very decent.
The deadline for entries is the 25th January 2009 (We are still open to submissions) at midnight GMT. Send your submission to: robot*at* node3000.com
Note: No recourse to legal action is permitted / Der Rechtsweg ist ausgeschlossen.
Tags: birthday, eggshell, this, shirt
Jan_04:2009 .020200 Comments(2)