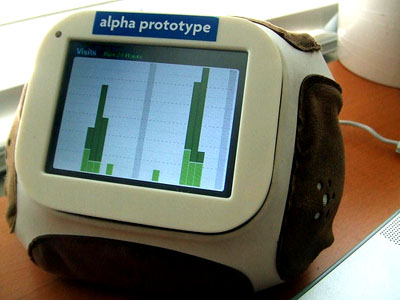 Picture (cc) by Mint on a Chumby
Chumby is nothing new, but it is something I wasn't aware of yet. It is a sort of "one-device-for-all-purposes". Fine, you think. That's also every laptop. The special thing about Chumby is the explicit reference to being a social technology.
It is basically a touch-screen, that is wrapped into a beautiful, unusual and I guess also robust case. The Chumby's got all the features you want to have with technical data like: 3.5" LCD color touchscreen, two external USB 2.0 full-speed ports; 350 MHz ARM processor, 64 MB SDRAM, Wi-Fi onnectivity, touch-sensitive accelerator-sensors on the outside, audio-output, microphone input... You can upload contents and applications. Whether an RSS-reader, some video-playing software or games. It really do not matter: make one Chumby your personal Chumby one. Here I grabbed a video, that shows how Chumby feels in action:
Ok, you have guessed it. Chumby would be a great think for robotics. Make it a face or make the heart of a robot. Since a Chumby just cost about 180 Dollar, it is something to consider, if building and programming robots. They got a section for developers, too.
[via]
Tags: do-it-yourself, homebrew, parts
Nov_03:2008 .020200 Comments(0)