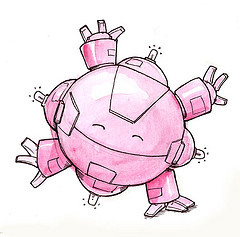 Inspiration and charity - this is how the "Robots and Monsters" project can be described. Illustrator and designer Joe Alterio put this project into life and launched the project along with some others. You can order an original "illustration-service" by them for 50 bucks. The thing works like this: you give them three keywords like "pink, cute, plumpy" and then select if you want to have a robot or a monster illustration. After that, they will send you the work frames, in order to put it on your wall. So why not take the opportunity, and let the illustrators from flesh and blood assist you on your next robotic challenge?
The money will be given for a good cause. It will go into the funds of the Electronic Frontier Foundation (EFF), who support freedom in the digital world, fighting against bogus in the patents and copyright world.
At least, there is a nice collection of handdrawn robots and monsters available, they made so far. I think, that this will give every robot-designing enthusiast some neat inspiration. Right at the moment they have almost 200 drawing in the Flickr-Photoset.
If you still head for more inspiration, check out our sidekick-project Found Robots.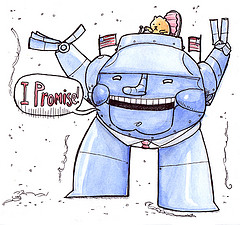 Tags: play, colors, fiction, inspiration, drawing
Oct_20:2008 .020200 Comments(0)