Did you already met this robots? A new breed of small scale robots is coming upon us. We have to get serious about living with robots real soon...
A Japanese manufacturer with the name Murata build this robots, that can ride bicycle, as well as unicycle. Official site here, additional information at Pink Tentacle.
When we already are on the topic about tiny humanoids, that do things normally humans do, than also notice this wonderful art-bot. The "Portraitist" Salvador DaBot is a robot with face recognition and the ability to draw faces as portrait with a pencil on paper. It was made by the Swiss robot artist and researcher Silvain Calignon. This here is the 2.0 version of the robot, and besides nice chat abilities it got a mustache an beret update. Meanwhile the "Portraitist" Salvador DaBot got a nice collection of works!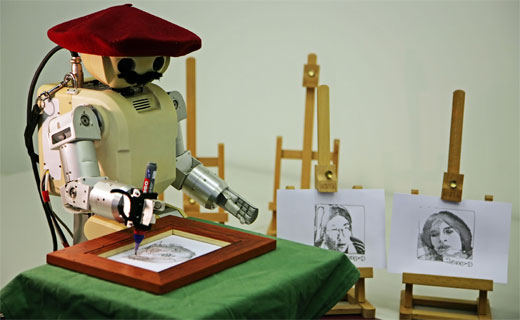 Portraitist via Botjunkie
Tags: humaniod, art, living-with-robots, research, painting
Sep_27:2008 .020200 Comments(0)