Ohh, I love those physics-based games. Isn't there any more fun to get into constructing and engineering?
Fantastic Contraption consist of various level. Each one a puzzle to solve. Your aim is to transport a spacial ball into a field marked "goal". To do so, you have to polish your constructing skills. Make use of rods, "water lines" and rotating elements, to craft your design. You also can save your models and share it with your friends. If I remember it right, then the game is also equipped with a level editor. To get a quick idea how this works, see this level we solved. This is no rocket science, but it works. Our beloved car has some, but not much trouble solving bridging the gap.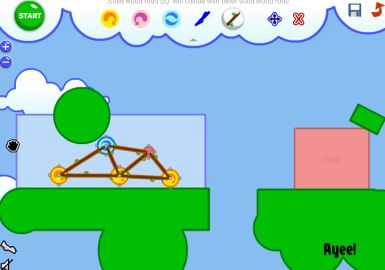 We also had similar pieces of software featured at Eggshell Robotics, like Sodaplay, Light Bot, Stormbaancoureur, Gene Pool and Phun. We also try to collect them in our wiki under tools. Interested people also browse Eggshell Robotics by the tag play or physics.
[via]
Tags: physics, game, toy, play
Oct_01:2008 .020200 Comments(0)